Industries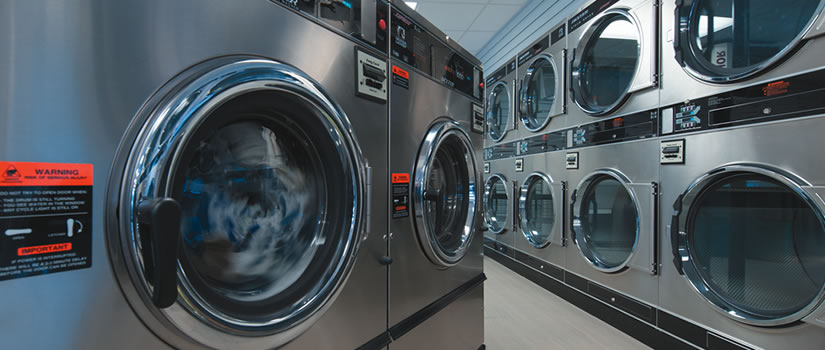 Dexter Laundry and our Dexter Authorized Distributors have helped build thousands of successful laundries worldwide. From small outdoor laundries to some of the world's largest laundromats, we have products to fit vended laundromats of every shape and size. Our on-premise products are available in a range of sizes and are built to fit an array of laundry environments. From hospitals to dairy farms, fire houses to battle ships, metropolitan cities to remote villages, our products can handle them all.
Vended

When laundry is your business, you need equipment that can stand up to anything. Dexter vended products offer a full line of durable and rugged laundry solutions to help you build, run and manage your business. With energy-efficient designs, durable materials and components, and smart flexible controls, our vended products are designed to help make you more successful.

Route, Multi-Housing, and University

An important part of planning and maintaining any multi-housing business is providing proper laundry services for your residents. Many residents look for laundry facilities when considering housing, and offering convenient facilities with the right mix of laundry products can impact their leasing decisions. Whether you own and maintain your own equipment or contract the services to a laundry route operator, you need laundry equipment that can stand up to anything. With a full line of vended laundry products, we can help you find the perfect mix to fit your resident and business needs.

Hospitality

Your guests expect comfort and cleanliness, and we are here to help you deliver. From bedding to table linens, towels to uniforms, you have a lot of laundry to process every day. Our high-capacity, durable laundry equipment can help you process laundry fast and efficiently so that you have more time to focus on your guests.

Health Care

In the health care industry, cleanliness and safety are top priority. Our on-premise washers feature automatic chemical injection options and superior wash baths to help ensure the proper removal of stains and biological contaminants. Our large-capacity options provide the power and durability you need to process large amounts of laundry every day so that you can keep your patients and residents safe and comfortable.

Emergency Services

In the emergency services industry, the proper care and maintenance of turnout gear and uniforms is vital to the safety of your team. With frequent exposure to chemicals, smoke, biological toxins and other contaminants, it is essential for gear to be cleaned properly. Our on-premise line offers the necessary equipment and features to clean and maintain your equipment in a safe and efficient manner.

Sports and Athletics

You want your athletes looking great on game day, and we can help you make that happen. With a range of sizes available, you can fit heavy-duty cleaning power in a limited amount of space. Our simple controls and automatic chemical injection options make it easy for your staff to process laundry and ensure that your uniforms and linens are bright and clean.

Spa and Wellness

From towels to robes, bedding to uniforms, your business generates a lot of laundry. Our on-premise machines can help you process laundry fast and efficiently so that you can get back to taking care of your customers. Our flexible wash cycles and automatic chemical injection options allow you to create the perfect combination to remove all of the oils and chemicals you use from your laundry.

Animal Health

Dexter on-premise laundry equipment is strong enough to handle your toughest laundry needs. Whether you own a dairy farm or a veterinary clinic or are another animal care provider, you can be confident that our equipment can handle anything you throw at it. Our superior wash baths and chemical injection options ensure the proper removal of stains and contaminants to protect your staff and animals.

Military

Dexter equipment is a popular choice for government and military organizations because of our heavy-duty designs and durability. Found on bases, ships, submarines and in barracks worldwide, our durable equipment is designed to show up for work every day ready to handle your toughest loads. With many sizes available, we can accommodate your needs and help ensure that your uniforms and laundry are clean and ready to work.

Correctional

For correctional facilities, you need durable laundry equipment you can trust. Whether you have laundry staff or inmates processing laundry, Dexter products offer the perfect mix of features to help you process laundry fast and efficiently. Our products are easy to use and offer lock out controls to prevent tampering with programs and settings. The automatic chemical injection feature helps remove contaminants while keeping dangerous chemicals safely secured and out of reach.