Home

•

Six Ways to Promote Your...
Six Ways to Promote Your Laundry Using Signage in Category Store Marketing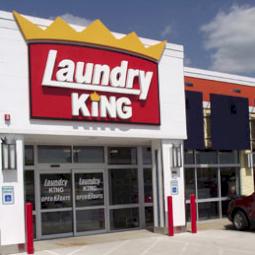 Signs are so widespread we hardly notice them. That is until we're looking for one and then we only note that in passing. We don't realize their effect on us, which is one reason why they're so effective.
However, it is precisely because signs are so commonplace that many laundromat and washateria owners take them for granted. Obviously, most laundry owners know they need a sign but they think of them as merely as something to identify their business. Yes, a sign can tell your customers who you are and what you do --- but it can also market your business!
When planning signage for your laundry, be sure to keep in mind that signs can not only identify your business, and mark its location, and convey the right image of your company. Signs should also communicate what you are selling, attract new customers and help you create and build impulse sales.
Here are six ways to use signage to help market your commercial laundry business.
1. Brand your business around your sign.
When your laundromat is the first one that comes to mind for customers when they need your services, you have achieved what is called "top-of-mind awareness." Top-of-mind awareness is built and reinforced through repetition.
Did you know that 85% of your customers live or work within a five-mile radius of your business? When driving to and from work, school and shopping, they pass your location some 50 to 60 times a month. Your sign should be designed so that it commands their attention every time they pass.
That's how signs help build top-of-mind awareness and brand your business. To further this effort, make sure your sign is included as part of your overall marketing strategy. For example, one marketing savvy commercial laundry owner always includes in its radio ads its address, followed by the phrase "under the big blue Coin Laundry sign." When people see the big blue Coin Laundry sign they remember the commercial. You'll also want to make sure your other marketing materials including the name of your business, your logo, company colors, catch phrase, etc., should be consistent on your sign, your letterhead, business cards and print ads. All these coordinated efforts build recall and recognition and help brand your business in the mind of the consumer.
2. Use other signs to direct towards your laundry.
Take a look at marketing signage opportunities in addition to your regular street signage. Is there any place outside your business location that you can do advertising? Can you get affordable signage down the street? While billboards in metro areas like Los Angeles are typically out of the question for small businesses, there are opportunities to advertise on bus benches, phone booths, shopping carts, car washes, and neighboring buildings. Get out in your local community and take notes on the places you find are displaying small business advertising. Use this signage to continue to build the brand of your laundry – not to mention drive more customers to your business!
3. Put signs at customer level with sidewalk signage.
While you will need to check ahead of time with your landlord and local ordinances to see if they are allowed, sandwich boards and other types of sidewalk signs can be a bright colorful way to draw attention to your business and to promote any specials such as ½ Price Senior Day, 20% off Fluff and Fold or other promotions. There are many different formats and styles available. Look for the style that works for your laundry and gives you the best ability to market your business.
Another method is to put up signs in like those real estate agents use for open houses, on the sidewalk or road in front of your business. You could also place them on street corners around your block to direct people to your business. Just make sure to get permission from your landlord or neighboring business owners before putting them up.
4. Use your car or delivery vehicle to advertise your business.
Did you know that you can promote your laundromat wherever you park you car or drive around town? Consider posting banners on your vehicle and park it in a conspicuous location or put magnetic signs on your car doors. You could even create a message on cardboard big enough for your windshield and use the sign as a sunshade. When marketing with your vehicle keep your message big, bold and brief so that drivers will look up and have time to read your banner.
It is a bit more costly, but some laundry owners have also had their vehicles painted or "wrapped" with promotional ads for their laundries, turning the car or van into a permanent moving billboard. This is a great way to get regular ongoing promotion for your business and may even make your vehicle tax deductible as marketing expense---talk to your tax adviser for more details.
5. Put up YES signs.
To help promote your business internally and to grow your customer loyalty and satisfaction consider turning normally negative standard business signs like "No Refund or Exchange," or "No checks accepted," into more positive signs that say "Yes, we do take checks. Yes, refunds are given within 90 days of purchase. Yes, your satisfaction is guaranteed." It will make a big difference in how your customers view your laundry!
6. Promote your business with internal signage.
Be sure to market your ancillary services to customers while they are in your store doing their laundry. Have signage that promotes your extra services such as Wash/Dry/Fold, tanning, vending, commercial accounts, etc. The hard work of marketing is already done (since they're already in your business) now tell these customers what else you can offer them.
Finally, don't be afraid to make an investment in quality signage. Chances are you'll see returns many times your investment. One business owner who invested $5,000 in a well designed, colorful pole sign discovered that in the first year that the new sign produced a 15% increase in their business, translating into additional profits that equaled several times the cost of the sign.