T-350 SWD Express
20 lb C-Series Vended Stack Washer-Dryer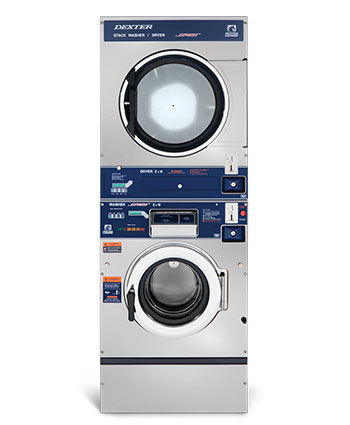 Dry Weight Capacity

20 pounds (9.1 kg)

Cabinet Height

74 3/4 inches (189.9 cm)

Cabinet Width

27 inches (68.6 cm)

Overall Depth

44 5/8 inches (113.7 cm)
Product Description
Dexter C-Series vended stack washer-dryers are engineered to show up for work in even the harshest laundry environments. Featuring DexterLive controls, next generation components, and high quality materials, these space saving combination units are designed to help make you more successful.
A store full of laundry equipment is a big investment and choosing the right equipment is an important decision. Our products will provide you the efficiency, flexibility, performance, and durability you need to be confident in your choice. With lifetime technical support and an industry leading warranty, you can be confident that we will stand behind every stack washer-dryer you invest in.
Product Features
SMALL SPACE, BIG SOLUTIONS
Dexter stack washer-dryers are ideal for installations where space is limited. For vended applications, a store built with all three sizes is the perfect solution to maximize a small footprint while still providing size options for your customer. For on-premise applications that don't have space for a standard washer and dryer, stack washer-dryers are an ideal choice.
MAXIMIZE SPACE
Dexter stack washer-dryers deliver the same commercial-grade performance customers expect from a Dexter standalone washer and dryer in half of the space.
ONE HOUR DRY-TO-DRY
With a dry-to-dry time of less than one hour, Dexter stack washer-dryers work fast and ef ciently. With a 30 minute dry cycle, the T-350 stack washer-dryer is the fastest, most powerful, dryer in its class.
QUALITY YOU CAN TRUST
We refuse to compromise on the engineering or quality of materials that we put into every machine. To provide the highest quality and reliability, we believe that every Dexter-branded product should be made by us.
COMMERCIAL PERFORMANCE
Like every Dexter product, our stack washer-dryers are built to show-up for work cycle after cycle, day after day, in even the harshest laundry environments. Using only the highest-quality materials and a heavy- duty frame, our stack washer-dryers are designed to withstand our extreme 1,000 hour test, running at maximum extract with an extreme out-of-balance load.
DEDICATED LAUNDRY ZONE
Having a stack washer-dryer makes it easy to transfer laundry from the washer to the dryer. Plus, vended laundry customers love having a dedicated area to do their own laundry.
PICK YOUR FIT
With three capacities, Dexter stack washer-dryers can t almost anywhere you need them. You can use them in combination with each other or pick the size that's right for you.
INDUSTRY LEADING WARRANTY
We offer an industry leading 10-year limited warranty on the washer and a 5-year limited warranty on the dryer. A 3-year parts warranty covers the rest. Plus, we stand behind every machine you invest in with lifetime technical support.
Machine Specifications
For full specifications on the T-350 SWD Express 20 lb C-Series Vended Stack Washer-Dryer, please look below.
Due to continuous product improvements specifications are subject to change, please consult the installation manual for the most accurate information.
*Agency approvals may vary depending on the machine configuration, consult Dexter Laundry or your Dexter Authorized Distributor for details.
Product Manuals & Resources
Here you can download the complete owner's manual, as well as product dimensions, instructions and maintenance tips for the T-350 SWD Express 20 lb C-Series Vended Stack Washer-Dryer.
C-Series